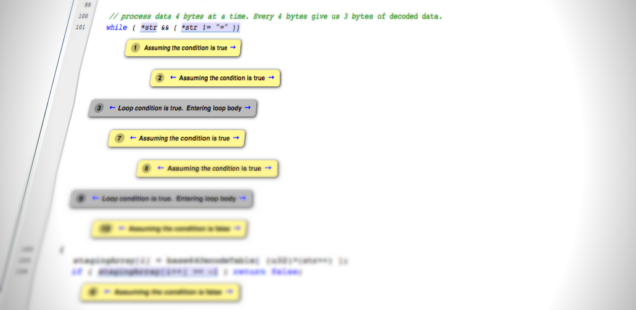 Clang scan-build: a great C++ Static Analyzer
Clang has a command line utility that is very easy to use, and adds a static code analysis step to gcc or clang. It is trivial to install (less than 5 minutes – really! ) and works with almost any build system ( makefiles, xcode etc. )
The Clang Static Analyzer ( aka "scan-build" is a script that will intercept all calls that your existing build system makes to clang/gcc, and replaces them with an instrumented version of clang that does static analysis of your code before compiling.
Think of it as adding a set of extra deep code warnings to your C++ compiler.
The static analysis is significantly slower – so you don't want to run this all the time.
An Example Error
The easiest way to understand what scan-build can do is to look at an example error report. Scan build will write error reports to the shell along with the rest of the compiler output, but it really shines when you run it in a mode where it send the error reports to a web browser.
Here is an example:
Summary > Report 93230f
Bug Summary
File:
/Users/rafael/Desktop/milk/apps/ksrv/../../libs/kxn/src/kxn_encoder.cpp
Warning:
line 124, column 77
The left operand of '&' is a garbage value
Annotated Source Code
91

bool

KxnBase64Base::decode(

const

char

* str )
92
{
93
94
clear();
95
96
u32 i = 0;
97
signed char stagingArray[4];
98
signed char decodeArray[3];
99
100
// process data 4 bytes at a time. Every 4 bytes give us 3 bytes of decoded data.
101
while ( *str && ( *str != '=' ))

| | | |
| --- | --- | --- |
| 1 | Assuming the condition is true | |

102
{
103
stagingArray[i] = base64DecodeTable[ (u32)*(str++) ];
104
if ( stagingArray[i++] == -1 ) return false;
105
106
if ( i == 4 )
107
{
108
decodeArray[0] = ( stagingArray[0] << 2) + (( stagingArray[1] & 0x30) >> 4);
109
decodeArray[1] = (( stagingArray[1] & 0xf) << 4) + (( stagingArray[2] & 0x3c) >> 2);
110
decodeArray[2] = (( stagingArray[2] & 0x3) << 6) + stagingArray[3];
111
112
write( decodeArray, 3 );
113
114
i = 0;
115
}
116
}
117
118
// we have some bytes left over.
119
if ( i )
120
{
121
assert(( i > 1 ) && ( i < 4 ))(__builtin_expect(!(( i > 1 ) && ( i < 4 )), 0)
? __assert_rtn(__func__, '../../libs/kxn/src/kxn_encoder.cpp'
, 121, '( i > 1 ) && ( i < 4 )') : (void)0); // it should never be a single byte.
122
123
decodeArray[0] = ( stagingArray[0] << 2) + (( stagingArray[1] & 0x30) >> 4);
124
decodeArray[1] = (( stagingArray[1] & 0xf) << 4) + (( stagingArray[2] & 0x3c) >> 2);

| | | |
| --- | --- | --- |
| 15 | | The left operand of '&' is a garbage value |

125
decodeArray[2] = (( stagingArray[2] & 0x3) << 6) + stagingArray[3];
126
127
write( decodeArray, i-1 );
128
}
129
130
write( ", 0, true ); // terminate
131
return true;
132
}
133